Sound and Music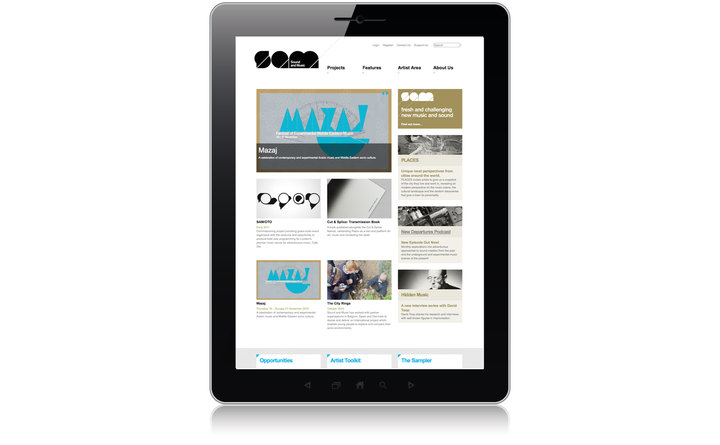 Description
We developed a major website for this new, Arts Council funded charity formed from the merger of four established organisations: British Music Information Centre, Contemporary Music Network, Society for the Promotion of New Music and Sonic Arts Network.
SAM brings together practitioners, producers and promoters under one roof, with the ambition to attract bigger and more diverse audiences to engage with innovative and sometimes challenging work.
Paul Finn designed this media rich site working with Sound and music's new brand created by Neville Brody's Research Studio. The Sound and music website has been through a number of iterations.
Highlights include;
Drupal 5 with upgrade to 6 Fully featured online eCRM application CiviCRM
A collection of over 20,000 contemporary classical musical scores (thecollection.soundandmusic.org)
Social networking connections include: Twitter, Facebook, Google, StumbleUpon and LoginRadius integrated social sign-on.
Podcasts, commissioned features and a platform for SAM organised projects.
RSS feeds to keep people up-to-date automatically National calendar of contemporary music (thesampler.org) with user contributed events.
Free membership sign up
Account management for around 12,000 users.
Artists' Area - a self promotion platform for musicians, composers and sound artists where they can;

create their own profile
share information
upload audio and video files of their work
post jobs and opportunities
post events.

Educational resources for schools and continuing professional development opportunities for musicians including opportunities events posting and others
The Sampler a national calendar of contemporary music