New Contemporaries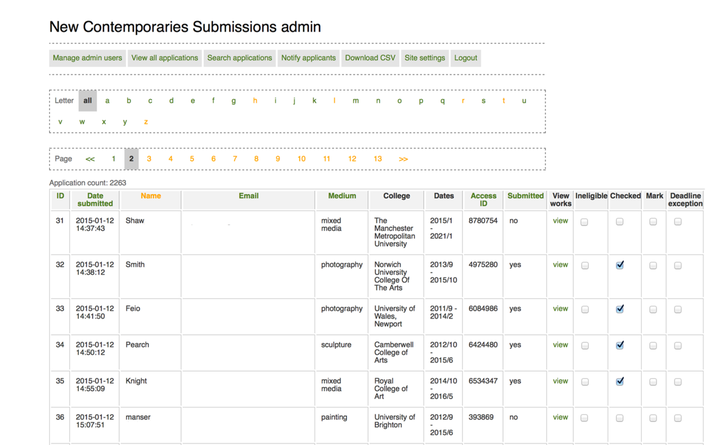 Description
Established in 1949, New Contemporaries is an annual exhibition of selected art school graduates' work.
Platform3 designed and built a website for New Contemporaries, Britain's most important open exhibition for emerging artists.
The site showcased the work of the selected artists, and provided background information on the selectors, tour dates and venues.
A secure press area allowed journalists and critics to register their details and download print-ready images.
In 2005 we designed and produced "putyoureyeout" a specially commissioned artist's project which allowed visitors to create their own short movie using stills and sounds selected by Elizabeth Lee one of the artists participating in the 2005 exhibition. The project was built in Flash.
In 2010 Newcontemporaries commissioned us to build an online application site to replace their paper based system. The site is hosted on an Amazon cloud server allowing us to scale up the server resources during the application process and scale down again to reduce hosting costs for the remainder of the year.
Features
database driven website with content management system
colour coded section for each year since 1999; individual artists' pages
artists' forum (under development)
press area (journalists can sign up to download print quality press images)
online artist's commission.
Quote

We love the site, it totally suits what we needed at the time (with room to develop and expand as we did) … Platform3 are thoroughly professional and creative.

Eileen Daly, newcontemporaries