Architecture Week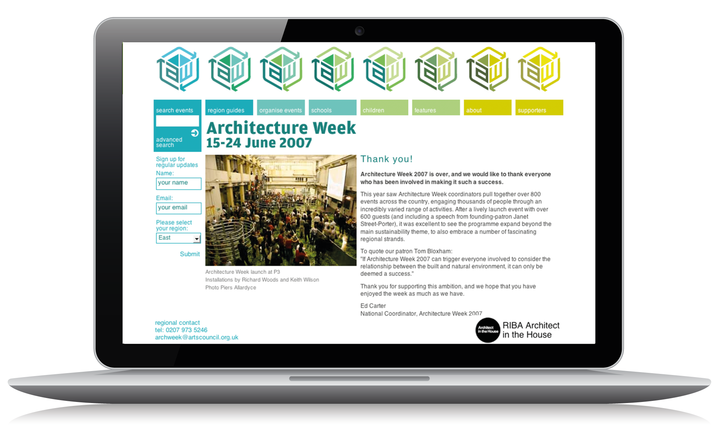 Description
A joint ACE / RIBA initiative, Architecture Week is the annual national celebration of contemporary architecture.  Platform3 in conjuction with pkmb designed and built the site for Archictecture Week from 2004 - 2009. Each year we gave the site a new look and feel and extended the functionality of their intranet, extranet and public site.
Features
new interface design each year
database driven website with a full content management system
advanced search facility allowing website visitors to create a personalised itinerary of events or email noteworthy events to a friend
an extranet for regional partners and event organisers
sign up to a regionally focused newsletter
facility to submit images using mobile phone
podwalks
event guides
printable tours & maps
targeted information for specific audiences in sections with own feel (children; education)
facility to browse by region
For its size and nature it is a well trafficked site; stats for June 2006:
1.25 million page views
197,000 visits
18,000 visitors visiting more than once
just under a gig of bandwidth consumed.
Quote

Firstly a really big thankyou for all your work on the website. We are really delighted with all the new elements - especially things like the podwalks and the Happy Places competition. All a great success!

Claire Pollock, Arts Council England